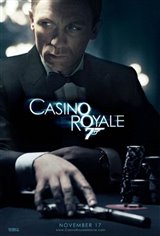 4.33/5
Based on 8420 votes and 468 reviews.
Please rate between 1 to 5 stars
Showing 41-50 of 468 reviews
January 12, 2007
Well, what can I say? It was interesting, I guess, and Daniel Craig was certainly commendable (minus the stupid model pout), but the whole film was completely uneven and quite predictable. The first chase was so long that all the action sequences that followed were boring. Honestly, the best part was the poker game. Still, worth seeing, although you may want to wait for the DVD. Kudos to Judi Dench for bringing some much-needed sparkle! - Atalanta
January 10, 2007
oh, boy were people wrong about daniel craig. he was awesome. what a bond.
January 10, 2007
great movie
January 9, 2007
the movie was great and critics are wrong about daniel craig he put so much effort and passion into it and he is so sexy!!!!! best bond ever.
January 8, 2007
its was really really good not to mention Daniel Craig is a freaking hottttttty!
January 7, 2007
Simply EXCELLENT!!! some witty and very flirtatious scenes, great acting from both Daniel Craig and Eva Green, I could watch this movie 10 more times! Makes every previous Bond movie look like Austin Powers...
January 4, 2007
One of the best James Bonds i`ve ever watched!
January 4, 2007
it really awsome I watched 2 times and still wanna watch it
January 3, 2007
I found this one of the most enjoyable Bond movies in a very long time. Watch Danial Craig carefully on the screen and think Steve McQueen. The lack of gadgets from the Bond "Q" labs also made this movie enjoyable. The foot chase at the beginning of the movie was spectacular.
January 3, 2007
Not only a great (dare I say the best) Bond film, but a great film PERIOD. Craig is mindblowing as Bond, and Eva Green, well, nothing bad can be said about her. If you haven`t seen this film already, do it.