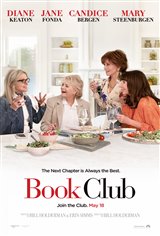 Book Club
| 161 Reviews
Write a Review
In Theaters: May 18, 2018
On DVD/Blu-ray: August 28, 2018
PG-13 | Comedy | 1h 44m
3.91/5
Based on 400 votes and 161 reviews.
Please rate between 1 to 5 stars
Showing 1-10 of 161 reviews
September 2, 2018
Loved, loved loved this movie!!!!
August 29, 2018
THE JOY LUCK CLUB for seniors. 4 out of 5 stars.
August 28, 2018
It was funny, real and open. Hilarious. Felt so good to laugh and enjoy the reality of today. Showed the truth. We all will be at the old age one day. It doesn't mean we are dead. We still have it! I liked the happy ending.
August 15, 2018
Creative, fast moving. Don't forget to catch the scenes during the credits!
July 28, 2018
I'm 58, maybe too young to appreciate the grandma humour. I thought it was embarasssingly juvenile.
July 10, 2018
Loved it! Great actresses
July 10, 2018
I laughed throughout the entire movie. The characters where awesome! It's a laugh out loud movie. A must see for women.
July 7, 2018
Hilarious. Felt so good to laugh and enjoy these women's escapades. I'd go see it again. Innocently funny, kept me engaged throughout.
July 2, 2018
Loved this movie - unexpected turn, cute and a great movie is someone does not want to hear swearing, violence and explicit scenes. Nice for a change
July 1, 2018
Hate to be a Debbie Downer, but I was pretty disappointed with the movie. I found the plot predictable - each actor was chosen to fit the their shallow character - we have seen them all a thousand times. Fonda -sexually adventurous, Keaton - ditzy shy, Steenburgen - hippy dippy, Bergan- no nonsense. ho hum. There were a few funny parts, but no surprises whatsoever HOWEVER..... it was lovely to lay back in cool theatre, in luxurious seats and get away from it all.