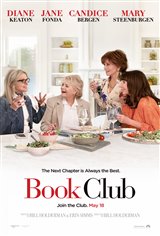 Book Club
| 161 Reviews
Write a Review
In Theaters: May 18, 2018
On DVD/Blu-ray: August 28, 2018
PG-13 | Comedy | 1h 44m
3.91/5
Based on 400 votes and 161 reviews.
Please rate between 1 to 5 stars
Showing 31-40 of 161 reviews
June 9, 2018
The movie was great!
June 8, 2018
contrived and unbelievable. This is a renter stay home, don't waste your money
June 8, 2018
Loved it ! I would see again...great talented ladies !
June 7, 2018
I enjoyed this movie immensely today I'm 62 years old and it spoke to me in so many ways but mostly the part about the daughters or children thinking that their parents are old and that they're dead that they're not alive but they have no desire for companion or For Love or compassion and that was really real to me great movie
June 7, 2018
Spectacular Move! Moving into my older years, this was wonderful to see that life can still be exciting no matter what age! I recommend this movie for its friendships, wit, humour, tough love and LOVE for each other.
June 7, 2018
Loved this movie being a 60+ woman now its fantastic to see shows with women friends our age in movies, can't wait to see more of them!
June 7, 2018
being a young 60---This was the funniest movie ive seen in quite awhile. totally relateable, lol.....planning to see it with 80 yr old parents....Andy Garcia, Be still my heart AHHHHHHH...great feel good movie!
June 7, 2018
Tremendous! OMG! Funny and felt like the story was based on some of the reality of every day life. Diane, Jane, Candice and Mary... Queen's of movie's!!!!! this kind of fun has not been done by Hollywood in I don't know how long. See it! So worth it! Fun and Laughs the whole movie.
June 6, 2018
so true for women of that age. Loved it
June 6, 2018
Great movie! I'm 51 And not a fan of aging, it was really nice to see a movie about a group of older women who are still living life, having fun, and inspiring others. This movie teaches us that we can be captivating, interested, and fun loving at any age...If you have your health, you have everything. Life doesn't end because you get older, you just realize how much more valuable it is.