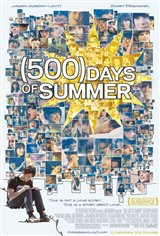 (500) Days of Summer
38 Reviews
|
Write a Review
In Theaters: August 7, 2009
3.87/5
Based on 247 votes and 38 reviews.
57.14%

14.29%

4.76%

6.35%

17.46%
Please rate between 1 to 5 stars
Showing 21-30 of 38 reviews
August 13, 2009
One of the greatest anti-romance film ever made.
August 13, 2009
"there's always more fish in the sea" never made more sense to me after watching this movie..
August 13, 2009
So good
August 12, 2009
Excellent movie! Charming, funny and realistic! A fresh love story!
August 12, 2009
To bad most girls aren't like this
August 11, 2009
Why can't women be like this girl?
August 11, 2009
Goes to show that Hollywood doesnt have to spend $175 Million (see GI Joe) to make a movie that people will enjoy. Give us more movies about relationships too please and thank you.
August 10, 2009
so so so cute and nice and creative and well thought out very enjoyable and different
August 9, 2009
Amazing movie!! A must see!!! You wont regret it. Definitely worth making the trip to the theatre. :)
August 8, 2009
such an awesome movie...it's blunt, down to the point, and real! what more can you ask for?