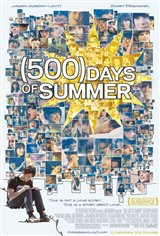 3.87/5
Based on 247 votes and 38 reviews.
Please rate between 1 to 5 stars
Showing 1-10 of 38 reviews
September 21, 2021
It is what it is. Who was that asian girl in the sweater? I wouldn't throw this movie out a plate glass window like I did to Ricki but that is faint praise. This is a movie for victims. If you're soft you may go for it.
July 26, 2018
Zooey's character is like a paper cutout of a woman that some dude created and was like, 'yeah, this is the perfect woman.' So flat.
July 26, 2018
A good movie but unfortunate that it relies so heavily on the manic pixie dream girl trope rather than making Zoe's character more multi-dimensional.
February 4, 2018
Smart, charming and touching romantic comedy. Joseph Gorden Levitt & Zooey Deschanel sparkle in this bright and interesting tale in the struggle to find a compatible lover. The music is exhilarating in this feel good film.
July 19, 2011
awesome movie love to watch it agian
October 22, 2010
Honestly, I was not interested in watching it at all when it came out. But everyone said it was great. So the other day I rented it and... I loved it! Such a good movie!
January 16, 2010
This movie is absolutely FABULOUS. I love it. Zooey Deschanel is a new favorite actress of mine. I love that it's set in Los Angeles, one of the most beautiful cities in the world (as it was said in the movie... I love there). Joseph Gordon-Levitt is a amazing actor, with adorable boyish charm that will captivate the hearts of viewers worldwide. This movie was definitely #1 on my list of top movies of 2009. The soundtrack's also pretty great. I love everything about the film. :D
November 28, 2009
AWSOME MOVIE
October 16, 2009
A cute tale of love and... not love. Poor guy can't catch a break... For me it's the supporting cast who really make this movie shine though. Matthew Gray Gubler is exceptional! Great comedic timing on his part. He's always passionate about his work and this is no exception! 5 stars overall... 5 stars just for Matthew!
September 21, 2009
Good acting , but the story was not that interesting.