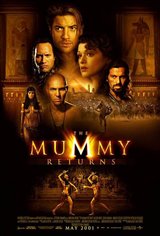 The Mummy Returns
Set in 1933, eight years after the events of the first film, Rick O'Connell (Brendan Fraser) and Evelyn (Rachel Weisz), are now married and living in London, where they are raising their son Alex (Freddie Boath).
In the British Museum nearby, the corpse of Imhotep (Arnold Vosloo) is resurrected by a cult led by the reincarnation of his lover, Anck-Su-Namun (Patricia Velasquez). To fulfill his goal of immortality and world domination, Imhotep seeks to resurrect and slay the Scorpion King (Dwayne Johnson) to gain control of his undefeatable army.
Imhotep needs the bracelet of Anubis to locate and raise the Scorpion King, and unfortunately for Rick and Evelyn, Alex has put on the bracelet and can't take it off. He's kidnapped by Imhotep, and race is on to rescue him and prevent both Imhotep and the Scorpion King from taking over the world.