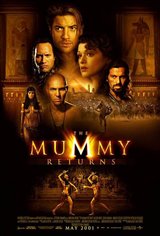 The Mummy Returns
20 Reviews
|
Write a Review
In Theaters: May 4, 2001
4.31/5
Based on 932 votes and 20 reviews.
67.22%

18.10%

3.09%

1.32%

10.26%
Please rate between 1 to 5 stars
Showing 1-10 of 20 reviews
September 1, 2008
i realy like Ronold vosloo as Imotip
February 24, 2007
I thought this movie was brilliant. the same the first except better stoy line.
March 5, 2004
wonderful picture and ultimate direction amazing seens of anubis soldiers wow really excellent and marvelous picture really i like to see this picture very much i saw 17 times what a beautiful picture really the fight seens are very super and fighting art is very super really i like this picture vry much bye bye bye...ur s damit
August 23, 2003
Wonderful! Exciting, romantic, scary, and sexy all in one!
July 20, 2003
I think is so many things in one.I love it.I wach Every day.I am the biggist fan of THE MUMMY.
October 12, 2002
It`s very cool. It`s grate. I like to much the movie. sometimes I see the movie. Is my favorite movie.
July 26, 2002
A great adventure. some parts of it were just unpredictable. a great success
July 5, 2002
What an adventure! I hate to make comparisons, but doesn`t Indianna Jones come to mind? Much eye candy throughout the whole movie, and really fun action scenes. You may want to upgrade your home theatre for this movie!
June 9, 2002
I think it was a great movie. I enjoy movies about myths and revealing truths of the past.
June 5, 2002
I liked the 1st better.