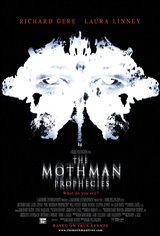 The Mothman Prophecies
A reporter (Gere) investigates strange phenomena in a small West Virginia town, including unexplained lights in the sky, psychic visions, and sightings of bizarre winged creatures.. all of which are connected to the mysterious circumstances under which his wife (Messing) died.

Based on true events chronicled in the 1975 book of the same title by John A. Keel.
| | |
| --- | --- |
| Cast: | Richard Gere, Laura Linney, Will Patton, Debra Messing, Lucinda Jenney, Alan Bates, Ann McDonough, Nesbitt Blaisdell, Bill Laing |
| Director: | Mark Pellington |
| Studio: | Columbia Pictures |
| Producer(s): | Gary Goldstein, Gary Lucchesi, Tom Rosenberg |
| Writer(s): | Richard Hatem, Becky Johnson |
| Official Site: | www.themothmanlives.com |