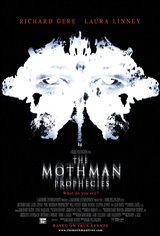 3.63/5
Based on 1805 votes and 75 reviews.
Please rate between 1 to 5 stars
Showing 1-10 of 75 reviews
November 30, 2002
I thought it was freaky, but loved it!!!
July 23, 2002
the thing that freaks me out the most is that it`s based on a true story it makes you think is the moth-man relly out there?
June 24, 2002
half the people said it was good and the other half said it sucked. Thanks a lot people now i don`t know if i should rent it. ggggggggggggggggggggrrrrrrrrrrrrrrrrrrrrrrrrrrrrr i`m so ****** pissed.
June 17, 2002
I found that movie to be so boring, not scary one bit and not worth the money wasted at the video store. Spend your money at a different flick. Chow
June 8, 2002
this movie wasn`t as good as i thought it`d be! when you see the trailer it makes you think my god my god! it looks so freaky but it`s not really!!!! just a red light thing that comes across the screen at time (which i`ll admit the 1rst couple time scared me) & a thing that has this tiny head & a regular body! if you get to rent it for free it`s better or download it off the net! not worth your money!!!
June 3, 2002
I thought it was really freaky, but it wasn`t the most exciting movie I`ve seen. I wished there was a little more action and I wish you actually got to see the Moth-Man! But other then that, I thought it was a really good movie, FIVE stars!!!!!
June 1, 2002
BEST EVER!!!!!
May 1, 2002
not all that great. it still freaked me out though
April 19, 2002
In general it was a good movie, however, it was a little slow at times especially when the doctor starts to talk...snoooooze! Some parts are really suprising, though.
April 1, 2002
The Mothman Prophecies is the ultimate suspense horror film. The only film that compares are The Usual Suspects.