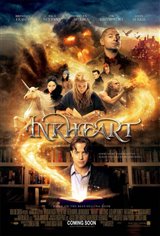 Inkheart
Mortimer "Mo" Folchart (Brendan Fraser) and his 12-year-old daughter, Meggie (Eliza Hope Bennett), share a passion for books. What they also share is an extraordinary gift for bringing characters from books to life when they read aloud. But there is a danger: when a character is brought to life from a book, a real person disappears into its pages.
On one of their trips to a secondhand book shop, Mo hears voices he hasn't heard for years, and when he locates the book they're coming from, it sends a shiver up his spine. It's Inkheart, a book filled with illustrations of medieval castles and strange creatures—a book he's been searching for since Meggie was three years old, when her mother, Resa (Sienna Guillory), vanished into its mystical world.
But Mo's plan to use the book to find and rescue Resa is thwarted when Capricorn (Andy Serkis), the evil villain of Inkheart, kidnaps Meggie and, discovering she has inherited her father's gift, demands that she bring his most powerful ally to life—the Shadow. Determined to rescue his daughter and send the fictional characters back where they belong, Mo assembles a small group of friends and family—some from the real world, some from the pages of books—and embarks on a daring and perilous journey to set things right.