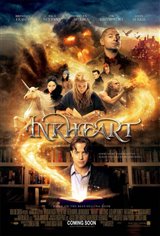 Inkheart
34 Reviews
|
Write a Review
In Theaters: January 23, 2009
4.03/5
Based on 544 votes and 34 reviews.
62.50%

9.72%

6.94%

9.72%

11.11%
Please rate between 1 to 5 stars
Showing 1-10 of 34 reviews
May 21, 2021
Because everything moves too fast, and there are too many shortcuts that leave the original story in the dust and the viewer confused, the characters loose all their carefully crafted depth Cornelia Funke had given them, making this story superficial, rushed, too confusing and gave it a shallow Hollywood ending. However, it might be quite enjoyable for children who haven't read the book if an adult explains to them what is actually happening. I personally didn't care for the artistic licence the film took with changing the original story.
September 28, 2009
it was a barely 'ok' movie.... truely sucked in comparison to the book. they totally screwed with the plot and the characters, making it totaly impossible for the 2nd and 3rd books to become movies as well.
July 6, 2009
Absolutely sucked. The book is muchh better. Wasted $6.
June 26, 2009
Love Brendan Frasier. Loved the movie. Loved the book series.
June 22, 2009
A symbol of hope for the fantasy genre
March 28, 2009
MOvie boring as hell as time for Brenden Fraser to giv eup on movies
March 28, 2009
It was great almost like the book.
March 22, 2009
Great fantasy movie, good for the whole family
February 25, 2009
I love it!
February 24, 2009
i like this movie