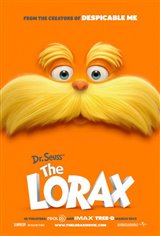 Dr. Seuss' The Lorax
Twelve-year-old Ted (Zac Efron) yearns for the affection of Audrey (Taylor Swift), the girl of his dreams. In order to win her heart, Ted sets out on a quest to find a real live Truffala Tree, which is the one thing Audrey wants most in the world—their city of Thneedville is completely artificial with no nature in sight. In order to find a Truffala Tree, Ted must enter the wasteland beyond Thneedville in search of the Once-ler (Ed Helms)—the only person who can help him.
Upon meeting, the Once-ler begins a tale of the Lorax (Danny DeVito)—a small, grumpy orange creature who speaks for the trees. When the Once-ler was a young businessman a long time ago, he dicovered the Truffula Tree – the key to his invention, the Thneed—in Truffala Valley.
At first, the Once-ler promised the Lorax not to cut down any trees, but greed and laziness made him forget his promise. As the forest became polluted and destroyed, the Lorax was forced to send all wildlife away, leaving the word "unless" carved in stone.
Not realizing the meaning of this word until he met Ted, the Once-ler gives the boy the last Truffula seed. What began as a quest to win the girl of his dreams becomes a personal pursuit to show the town the importance of nature. But first, Ted will have to stand up against Mr. O'Hare (Rob Riggle), Thneedvill's mayor and owner of the oxygen company, who tries to convince the town that trees are no good.