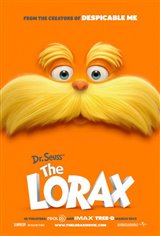 Dr. Seuss' The Lorax
84 Reviews
|
Write a Review
In Theaters: March 2, 2012
4.06/5
Based on 268 votes and 84 reviews.
44.44%

34.13%

11.11%

3.17%

7.14%
Please rate between 1 to 5 stars
Showing 1-10 of 84 reviews
December 18, 2021
I honestly don't know how the so called "critics" over at rotten tomatoes hates this movie so much. This movie shows how a passionate little man boy saves his people by exposing them to the wonders of real oxygen from the trees the little fat man hid from them. Honestly get a life tomato people, you obviously don't know what a real movie is
August 7, 2012
lots of fun
August 6, 2012
i really enjoyed watching this movie with my grandchildren!
August 6, 2012
singing fish!!!
August 5, 2012
huge fan of both the dr. suess book and the film.
August 4, 2012
super cute
August 4, 2012
wonderful message. beautiful show.
August 2, 2012
good kids movie. if you enjoy getting wacked upside the head with a blantantly obvious moral and message (in song!) you will enjoy this
August 2, 2012
unless
August 1, 2012
quite enjoyable