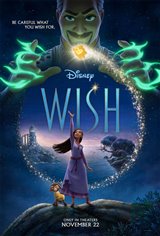 1.81/5
Based on 52 votes and 16 reviews.
Please rate between 1 to 5 stars
Showing 1-10 of 16 reviews
December 3, 2023
Not a good movie at all.
December 3, 2023
My granddaughter (7) and I fell asleep.
December 1, 2023
Wasn't impressed. Kids weren't impressed, look for better options! Hopefully they get back to making movies like they used to back in the day.
December 1, 2023
recommending not watching
December 1, 2023
Okay, like another reviewer pointed out, it really feels like most of the hatred this gets is from people expecting too much out of it. Remember, Chicken Little and Home on the Range still exist. Can you honestly tell me this is worse than those? Also, for the one person who clearly posted the same comment twice accusing this film of being 'woke', there isn't even an anti-prejudice message in it. I swear, that word really has joined the ranks of 'troll' and 'Mary Sue' as this random term that's thrown around so much, no one knows what it means anymore and really will use it as a convenient label for anything they don't like. Look, as a 100 year anniversary celebration, I at least agree this could have been better, but as a deliberately simple fairytale, I think it's fine. The songs, while nothing remarkable from Disney, are still relatively good, and while the main leads are underdeveloped, they're not unlikable. I really don't understand where people are coming from when they call Asha annoying as she clearly has a good heart. Even the 'adorkable' and 'quirky' moments that people get after Disney's newest female leads for are kept to a minimum. So, yes, I can at least agree this movie isn't a masterpiece, but it's not the worst thing Disney's produced either.
December 1, 2023
Boycott Disney and their woke bs!
December 1, 2023
Boycott Disney and their woke bs!
December 1, 2023
The kids made me go, but then were bored and fidgeting half way through, I think the disney magic is gone. I had heard that this was a tribute to 100 years of disney, and I could see where they inserted that, but over top it all was the annoying girl who none of us cared about. Writing was just bad.
November 29, 2023
Just the worst , period , the girl was soooo annoying, ever 4 seconds a new facial gesture , I mean ,if she put both arm under her chin again , puke , It was like captain Kirk had a baby with attention seeking baby. Oh another thing ,could she have looked more like Megan Marcel, they must have done that when they thought she had a chance . There is the physically challenged girl , replete with crutch , cringe , oh and she full figured , so all the boxs checked . I never thought animation could over act , the worst Disney ever . Oh and finally the one guy in middle, with a booming laugh, every 2 minutes , people in the audience started to point at him and shake their head at him .I smell industry plant . Just baffled .
November 28, 2023
It's not Bad music was good a Little Different then some. I liked the music the goat could have been better in it I thought this could have been a tad longer but 2 Maximum hours would have been Enough I was Surprised the odd ones Didn't like it I didn't mind it. Try it out and see for Yourself