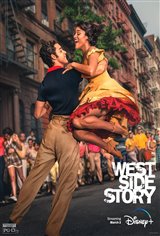 West Side Story
| 45 Reviews
Write a Review
In Theaters: December 10, 2021
On DVD/Blu-ray: March 15, 2022
3.4/5
Based on 180 votes and 45 reviews.
Please rate between 1 to 5 stars
Showing 1-10 of 45 reviews
April 24, 2022
Brilliant - will definitely watch again!
March 8, 2022
Spielberg's cinematic choreograhpy was unerring and his combination of Kushner (one of the greatest American playwrights), Bernstein (one of the greatest American composers) and himself (one of the greatest American filmmakers) is a gift to the country. Ignore the ridiculous reviews by the New Yorker and NYT. I have no idea what film they saw - but it wasn't this one. Go! It's a treat to see it on the big screen. It's Fantastic.
February 20, 2022
The story had more depth than I remember the original having. Also, this version flowed more like a film than the first, which came across as a play that was filmed. The music and lyrics are timeless. Loved that they gave "Somewhere" to Rita Moreno. Will see it again.
February 17, 2022
This movie was beautiful! The dance numbers were great. Loved it. Must see on the big screen.
February 9, 2022
The first. Hour and a half I found really dragging (the preparation towards the street gang brawl) except for the dancing which I expected much More, beautiful voice Maria, enjoyed the Latino, English well done. Some Great acting.
January 26, 2022
Great casting, incredible dancing. great love story really draws you in.
January 16, 2022
I waited for 2 years to see this and it did not disappoint in any way! shot beautifully - great cast, punched up script from the original - but still very real and authentic. BEST PICTURE FOR SURE! The young Maria and Bernardo and Anita were off the charts fabulous and all got Golden Globe noms! A real love story with incredible dancing - go see it on the big screen while you still can!
January 13, 2022
Wonderful to see real environs, hear Spanish and see Latino actors beautifully singing and dancing.
January 12, 2022
can't beat the story line and the music. Flashback to my youth.... Found the background buildings in this version depressing and staged. 2 thumbs up for the revisited feelings!
January 10, 2022
Fabulous, best cast and direction , will see again.