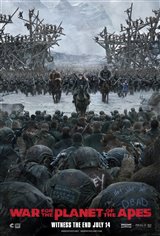 War for the Planet of the Apes
| 96 Reviews
Write a Review
In Theaters: July 14, 2017
On DVD/Blu-ray: October 24, 2017
3.79/5
Based on 316 votes and 96 reviews.
Please rate between 1 to 5 stars
Showing 1-10 of 96 reviews
February 2, 2018
Again there are no clearly black or white characters. Even the "evil" colonel has a good point when he does what he does. There are some weird things like a little girl who managed to go to the military base unnoticed and the death at the end felt quite forced and unnecessary but it´s still very good movie. "The irony is we created you and the nature hasn´t stopped punishing us for that arrogance."
November 5, 2017
I enjoyed the other movies in the series better.
November 5, 2017
excellent movie
November 3, 2017
Holy ape sh!t Batman! Not much a 'war' per say, but a war is indeed going on. More like gorilla warfare (see what I did there?). Nice lead-in to the 'later' movies (from the 70s). Be nice if they re-do those as well; be a nice box set. It had a deeper vibe about it so knuckle-draggers probably wont get it (BAM! I did it again!)
October 25, 2017
Good way to end the series. BUT that last part about the apes already fighting this rogue army and then trying to escape while another army arrives who gets wiped out too was funny but felt contrived. As though they were about to leave the door open for more stories and another rogue army to search for apes, but then they closed it so fast. Overall the series is fantastic.
September 8, 2017
This was a good and funny movie.
September 3, 2017
Great movie I hope they will make another one.
August 31, 2017
Perfect pace for the storyline. I think the people who said it was slow were expecting constant fighting. There are fight scenes also. I saw this with my boyfriend last night and we both like it. I hope there will be a sequel.
August 31, 2017
I am a fan of Planet of the Apes. I loved this one. I did not feel it was too slow. It was not as fast moving as the previous one. It was just right for this story line. Everything looks so real.
August 30, 2017
1 star Slow boring left 1/2 way through movie it was pain full!!!!