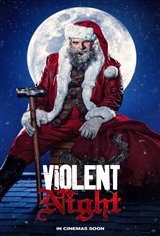 Violent Night
| 26 Reviews
Write a Review
In Theaters: December 2, 2022
On DVD/Blu-ray: January 24, 2023
3.71/5
Based on 70 votes and 26 reviews.
Please rate between 1 to 5 stars
Showing 1-10 of 26 reviews
January 10, 2023
If you've been nice, you get what you want. If you've been bad, you bite it. How can you go wrong? Add in a hysterical over the top cast and script and it's an instant classic.
January 9, 2023
My brother and I really enjoyed this movie. It was no-nonsense during the fight scenes, payed homage to Home Alone, and had a bunch of hidden subtext that resulted in us cackling along in certain parts. The pacing was great, the actors all did a wonderful job, and we are going to see it again next weekend.
January 6, 2023
If you enjoyed this movie, check out Fatman with Mel Gibson. This movie had lazy writing and a poor supporting cast. It never stood a chance.
January 5, 2023
Why was this movie even made?..Worst movie I have ever seen..Didn't go by choice..Someone else chose it..Don't waste your money..
January 2, 2023
Who wrote the script? Bad job! The trailers were awesome, those scenes were not exactly the same in the released film. From the trailers I thought Santa might be a guy with super powers, instead his powers were intermittent that the writers only used to achieve the story line they wanted. This could have been a phenomenal film, I had great expectations but it was a train wreck combining ideas from The Hunt, Griswold Christmas Vacation, a bloody horror film, and a story line that rambled through the rabbit trails. They should hire more talented writers, make Santa a magical superhero but retain the dirty lush persona with the ancient war monger history like they had but show a storyline with out the blood and guts where Santa tricks the naughty and is kind to the nice kids. Sort of a Dead Pool kind of jokester. This could have been a fun movie but someone or several people screwed it up making it a boring FUBAR film. Best of wishes for the sequel.
January 2, 2023
Loved the humor throughout the movie! Plugging in the lights and star was awesome!
December 30, 2022
This movie was a great twist to the old fashioned Santa movies! This Santa went all in for the kids!!! Highly suggest this movie!
December 28, 2022
Liked the start, then it turned into a murder and mayhem movie, Santa did not come across as a nice guy.
December 19, 2022
love Santa better xmas movie ever
December 18, 2022
This movie is not for the weak of heart. It tells two stories simultaneously. It touches so many different emotions in one movie. It is a little bloody, but that is well done too. I loved the movie, it is not your cookie-cutter Christmas movie. I especially loved Santa!