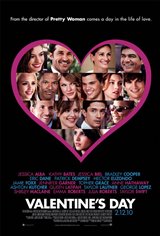 3.62/5
Based on 210 votes and 52 reviews.
Please rate between 1 to 5 stars
Showing 1-10 of 52 reviews
July 29, 2010
Human relationships between men and women: I loved this movie. It describes different types of relationships between men and women. The author has managed to convey his message. The feast of love. Friendship. Love with a capital L. Human relationships where long-term true love can happen. This is where things are assessed. Take time to think, do not get excited too early; do not go too fast in a relationship. The moral is to keep its control and believe in love by valuing the great feelings. There is evidence of love: the person who will highlight some events in the life of his loved one, by remembering his birthday, for example. Valentine's Day can often take stock of the great feelings
July 6, 2010
STUPID MOVIE! too many story lines going on for any one to be developed. Big cast so you're bound to like at least some of the actors but really not worthwhile watching. There's only two scenes I actually enjoyed.
July 1, 2010
I really loved this movie. Julia Roberts was fabulous on the plane ride. She is such a naturally talented actress. Bradley Cooper was great eye candy. I loved the intertwined relationships with the other famous names. A person ready to get married may not be feeling what their partner is feeling. Love with a man that ends up married is no fun. And finding love built in friendship can be so right. Two thumbs up.
March 17, 2010
This movie pretty much copied off the "He's just not that into you" idea, except instead of having different endings for different characters, everybody has a cheesy happy ending. Not funny, and I can't stand Jessica Alba's bad acting.
March 10, 2010
not all that funny. kind of boring to watch
March 10, 2010
Very good romantic/comedy, it is what it is, some laughs, bit parts for a lot of stars, a few surprizes and more laughs. The dialogue was better than Avatar for sure.
March 9, 2010
Worst Movie of 2010 !!!! Hope They Get nominated For 2010 RAZZIES!!!!!
March 7, 2010
This movie is Awesome! It was such a sweet movie that I want to watch it over and over and over again. 4 and a half stars! :))
March 7, 2010
Another mundane movie! This movie followed a simple cookie cutter story line. It was about several relationships that were rather repetitive of many other romantic comedies but a lot less funny. They focused on certain relationships more than others, which was understandable given the amount of star power, but I thought some of the other story lines and relationships they showed such as the (Taylors) was pointless. They seemed to throw some stories in there just to showcase the stars as being in the movie without developing any story for them. I'm not going to say it was cute because it wasn't. It was another failed attempt at a romantic comedy that they put a lot of big stars in so that we
March 4, 2010
I wouldn't even give it one star. Such a poor movie. Too many cuts..to many actors.. characters weren't beleiveable. plot lacks interest..not realistic.. nothing taken away from the film. The only part that evoked any response from me than complete boredom was Julia Roberts final scene. Terrible Terrible story line for the characters. Not clever or funny at all.