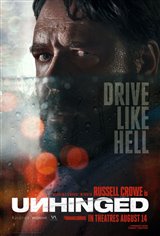 3.55/5
Based on 78 votes and 25 reviews.
Please rate between 1 to 5 stars
Showing 1-10 of 25 reviews
September 25, 2020
Best movie of 2020. Special effects fantastic. Russell Crow is so believable! Wow!
September 21, 2020
Never ending excitement.
September 19, 2020
This was one of the worst movies I have ever seen. Absolutely horrible! A mess from start to finish! An embarrassment for Russell Crowe. If I could give it a zero I would but I had to give it something.
September 15, 2020
So realistic with lots of action. Make sure you go to the bathroom before it starts because you don't want to miss any of it.
September 15, 2020
Mindlessly entertaining! No message, no chiding, no making me feel guilty about what ever the cause du jour is. I walked out of the theater smiling and happy, 90 minutes of entertainment.
September 13, 2020
I read the reviews before hand and didn't expect much , but I was pleasantly surprised . I thought it was pretty good . Lots of action ,and lots of make you jump scenes.
September 8, 2020
Too violent and gruesome. Not appropriate glorifying violance
September 7, 2020
I loved it--Action every moment and only an hour and a half long !!! Kinda scary ! A few funny parts ! Youll be on the edge of your seat !!
September 2, 2020
extremely stupid movie. We laughed throughout. Crowe seemed like - to quote Chris Pratt in the so-so remake of Mag7 - "That bear's wearin' people clothes". So the 80-pound girl is pummeled and beaten and chased for hours and the cops evidently toss her the keys and send her home? This movie makes the police look silly and kill the only 2 'men' who actually try to help. I could write a better screen play with my toes - at least one without giant plot holes.
September 1, 2020
Let me ask you...if a murderer tells you to bring him your child to save your brother do you do it? Uggg, barely got through this ridiculous flic. And, what happened to Crowe? Looks like he's 300 lbs...another Uggg.