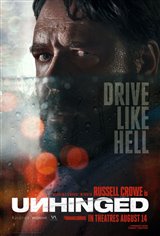 Unhinged
| 29 Reviews
Write a Review
In Theaters: August 21, 2020
On DVD/Blu-ray: November 17, 2020
3.58/5
Based on 88 votes and 29 reviews.
Please rate between 1 to 5 stars
Showing 1-10 of 29 reviews
October 11, 2020
Not the worst i've seen,but definitely not worth the price of admission.
October 11, 2020
She should have apologized - with that said read on.. YES , brutally violent. I likened it to the "Terminator" in that he wasn't going to be stopped, AT ANY COST, until he accomplished his mission. YES you will cringe, however, the movie did what it was suppose to do - not glorify violence , but keep you on the edge with relentless pursuit. In-spite of the violence, I thought the film was well directed, filmed & acted. An extreme case of Road Rage in order to give it play time. If he was Mr. Polite-Nice-Guy - you wouldn't have a movie. You've been warned. RH
October 7, 2020
Such a wild ride! Action never stops! Crowe has again completely disappeared in this role. Heart didn't stop pounding until 20 minutes after I left the theater.
October 3, 2020
We were truly entertained and kept on the edge of our seats! Yes, it was violent, but there are people driving our roadways with similar issues as Crowe's character. The title lets one know it isn't a feel good movie and it never hurts to be reminded there are a lot of unhinged drivers out there!!
September 25, 2020
Best movie of 2020. Special effects fantastic. Russell Crow is so believable! Wow!
September 21, 2020
Never ending excitement.
September 19, 2020
This was one of the worst movies I have ever seen. Absolutely horrible! A mess from start to finish! An embarrassment for Russell Crowe. If I could give it a zero I would but I had to give it something.
September 15, 2020
So realistic with lots of action. Make sure you go to the bathroom before it starts because you don't want to miss any of it.
September 15, 2020
Mindlessly entertaining! No message, no chiding, no making me feel guilty about what ever the cause du jour is. I walked out of the theater smiling and happy, 90 minutes of entertainment.
September 13, 2020
I read the reviews before hand and didn't expect much , but I was pleasantly surprised . I thought it was pretty good . Lots of action ,and lots of make you jump scenes.