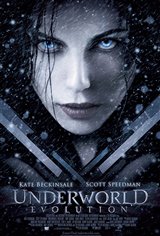 4.33/5
Based on 3569 votes and 170 reviews.
Please rate between 1 to 5 stars
Showing 1-10 of 170 reviews
January 12, 2009
I love Kate Beckinsale and Underworld III is going to rock!!!
August 13, 2006
i lOVED THE COMBINATION OF LOVE AND DANGER AND DIVERSITY THE CONTINUOUS ACTION WAS TERRIFIC
July 7, 2006
Just as brilliant as the first one!!!!! I think in this movie the characters develop alot from the second i.e. there is more to Selene then just some sort of robotic killing machine, even though she was still awesome in the first. The storyline is great, it is good to know a bit of the history of it. Awesome effects, great plot, JUST PLAIN BRILLIANT MOVIE!!!!!! I love both these movies, and am completely obsessed with them. Kate is a legend. Scott is brilliant, and again Len Wiseman is a Genius!!!!! My goal in life is too become a director, and these movies have inspired me even more, they are so well put together. BRILLIANT, AWESOME, BEST EV
July 4, 2006
A dynamite movie. Even better than the first and that was excellent too.
July 1, 2006
Underworld Evolution was Awesome, I loved it just as much as the first one and I can`t wait for part three!
June 12, 2006
It was awesome although not as good as the first one and I wish people would get a life and quit baggin it out its awesome so get over it! I`m sorry if this is off topic but can someone please tell when the 2-disc special edition version of underworld came out in America? I live in Australia and can`t wait to buy the extended version but knowing when it came out in America might help.Thanx alot:)kate.
June 11, 2006
great,great
June 10, 2006
u only see this movie to see kate
June 10, 2006
Glad to a sequel worth the time spent making it. Nice flashbacks, great action scenes and a love scene.....well, what can I say about that? You`ll have to see it for yourself! Enjoy, this is ride you`ll be glad you didn`t miss.
June 9, 2006
every badly made compared to the first movie.