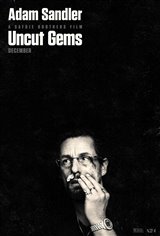 Uncut Gems
| 106 Reviews
Write a Review
In Theaters: December 13, 2019
On DVD/Blu-ray: March 10, 2020
R | Thriller | 2h 17m
2.53/5
Based on 266 votes and 106 reviews.
Please rate between 1 to 5 stars
Showing 1-10 of 106 reviews
April 4, 2020
Annoying, always yelling
February 26, 2020
One of the worst movie experiences of my life. Felt like walking out, but stayed with the hope that this film would have some redeeming quality. Never happened. Much gratuitous swear words and some disgusting scenes. Some scenes were inexplicable, which made the plot a little hard to follow.
February 13, 2020
Throughout the entire movie is the nagging question of how does a jeweler with this thug clientele not have a weapon? He gets bullied, beaten, hung out a window, stuffed in a trunk, punched in public in front of witnesses, thrown into a fountain. He has no backup. It's just one continuous shouting match. The uncut opal becomes secondary to the interiors of the world of gems. We see there is no value but the sentiment we attach to jewels.
February 13, 2020
Well done. Inside look at the frantic unsafe pace of betting and the pursuit of wealth. Opals are considered bad luck, they're fragile stones. This story takes us from the opal mines in africa mined by Ethiopian Jews to it journey into New Yorks maze of jewelers, auctions, buyers, betters.
February 7, 2020
I think I had an epileptic seizure. In case you don't know, that isn't fun
January 31, 2020
Simply enjoyed the entire movie - despite the bad language....Sanler was brilliant as was the storyline!
January 27, 2020
Painful. Frenetic and pointless.
January 27, 2020
This was the worst movie ever!! It should have been rated XXX
January 17, 2020
Horrible writing and acting, made worse by the frantic pace and screaming. Peaked with Happy Gilmore.
January 16, 2020
Intense all the way to the end