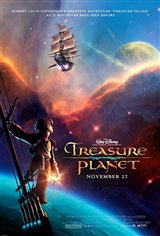 3.6/5
Based on 2296 votes and 62 reviews.
Please rate between 1 to 5 stars
Showing 1-10 of 62 reviews
May 17, 2008
i thought this was an awesome movie. one of the best disney made in a while. it was different and very involving with v. different characters. i would recommend it for any age group. im 16 and i really liked this movie.
July 5, 2005
It was a wonderful film! I loved it!
September 11, 2003
it was good
September 10, 2003
Treasure planet was actually an adorable movie. I would recommend it to others. It has a lot of exitement, adventure, sorrow, love, and comedy. It had glued my eyes to the screen. My favorite character is Morf. He was just the cutest thing I have ever saw. The way he could change shapes and items. He made me "awwww" the entire time. My second favorite was JohnSilver. He had determination towards his life long goal for his treasure. In the end it turns about that he cared for the boy rather his gold, which is showing that he had a heart. So, for my opinion Disney made a great movie for the children.
September 10, 2003
I thought that the visual graphics were very detailed though they were added to hand drawn characters. I think that most of the characters fit in with Robert Lewis Stevensons story "Treasure Island." I also found that the the galleons and the flintlock pistols were well created.
September 10, 2003
I think this movie was pretty cool. It also gave some good laughs and all to. I liked the characters cause they played some good rolls. But the best character would have to be Morph. He was one of the most funniest ones in the movie out of them all. I think this movie was pretty good but in certian areas I think they could have done a better job on it but still I think they did an excellant job on this movie so I rate this movie 3 stars.
September 10, 2003
I thought the movie Treasure Planet was good.It had some good characters and it was funny.Its a real good movie for little kids.
September 10, 2003
I loved "Treasure Island".It was great. The characters were my favorite part of the movie. Especially morph and B.E.N. They added comedy to the picture, and it made the movie great
September 10, 2003
I thought the movie was a good movie for kids. If you haven't seen other Disney movies you would have thought it was great! But I thought that it was ripping off the other Disney movies with the animation style. My favorite character was the captain. She was very cool and very strong. Nothing scared her and when a problem came up she faced it with bravery and cunningness. My least favorite character was the insect thing. He was really mean and ugly. My favorite part of the movie was the ending; it was very funny and happy.
September 10, 2003
I think that the movie treasure planet was an ok movie. The thing that I like the best about the movie is the little character morp. The rest of the characters were good to but I think that he was the best one.