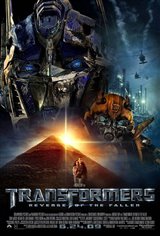 4.6/5
Based on 63846 votes and 560 reviews.
Please rate between 1 to 5 stars
Showing 1-10 of 560 reviews
July 8, 2010
pretty good. not as good as the first one, and didn't have as good of a plot, but i was still entertained!
June 25, 2010
how can people trash this movie amazing action scenes great story and megon fox is very hot SO WHAT it was a bit long and the jokes were not really that chidish overall great movie
May 3, 2010
Technology: 10 Explosions: 10 Destruction of Property: 10 Story, Acting, and Script: Zero What a bunch of crap!!
December 29, 2009
It was a long movie, okay plot, lots of corny parts
November 13, 2009
That movie is for kids, not worth watching. If you like it you're not more than 15.
October 28, 2009
awesome, just awesome
October 25, 2009
Too Long and too many spinning around for nothing action scenes. 3***'s
October 24, 2009
this movie is so awesome that it is so the best movie of last year
October 20, 2009
Flat out disappointing.
October 18, 2009
I thoroughly enjoyed the first one and was looking forward to the sequel. I almost wanted to walk out of the theatre during the first half of the movie and I've never really felt that before. The writing is horrific, especially the dialogue with his parents. What were they thinking? Anyway, I did not enjoy Revenge of the Fallen. It picked up in the second half and wasn't completely awful, but still. I'd probably have to give it 2 stars. I definitely won't be seeing part 3 in theatres, but I'll check it out on DVD to see if they can get back on track, because part 1 was awesome.