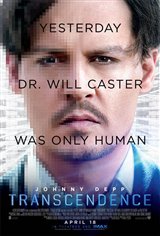 Transcendence
32 Reviews
|
Write a Review
In Theaters: April 18, 2014
PG-13 | Action, Adventure, Fantasy, Drama, Science-Fiction, Thriller | 1h 59m
3.59/5
Based on 74 votes and 32 reviews.
46.88%

12.50%

12.50%

9.38%

18.75%
Please rate between 1 to 5 stars
Showing 1-10 of 32 reviews
April 6, 2015
It had a few flaws but overall was a thrilling movie.
February 9, 2015
Very intelligent movie. Love Johnny Depp in anything.
January 8, 2015
Interesting and entertaining, Depp is a very good actor.
December 13, 2014
A remarkable achievement; Depp hasn't been this good since The Tourist.
August 6, 2014
I was waiting this movie for a while. I like Johnny depp and read quite alot on transcendence, but saddly yhis is an Hollywood representation of the transcendence concept. I would have liked a more realistic aspect of it. This movie completely failed me.
July 24, 2014
Regardless to what some people think or say about Johnny Depp, he is indeed a very talented guy. A Wild Card is exactly what/who he is. A very good story told.
July 24, 2014
I didn't like it. Johnny Depp was just fine in dealing with this mediocre script. He makes the best of a bad movie. It was full of plot holes and stupidity.
July 19, 2014
first hour is so slow that it puts you to sleep. Couldn't watch the second hour as it seemed such a waste of time.
July 9, 2014
This movie is only for those who like to blink.
July 9, 2014
This movie is only for those who like to think.