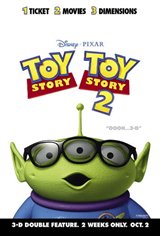 Toy Story & Toy Story 2 Double Feature in Disney Digital 3D
11 Reviews
|
Write a Review
Family | 2h 52m
4.52/5
Based on 53 votes and 11 reviews.
84.00%

4.00%

0.00%

4.00%

8.00%
Please rate between 1 to 5 stars
Showing 1-10 of 11 reviews
October 21, 2009
AWESOME! Don't miss your chance to see these beloved classics on the big screen!!!
October 12, 2009
This was a really good movie! Kids will enjoy it its very entertaining!
October 11, 2009
Awesome.. =D
October 11, 2009
Love it, Disney should do this with more of their movies.
October 7, 2009
I love these 2 movies....and in 3D they were even better!! Classics!!!
October 6, 2009
is the best movie ever and hilarious
October 6, 2009
I must say by, i was rather disapointed with this movie. It hasn't aged very well at all. The animation is absolute rubbish and just shows how far CGI has come today. 3-D does not redeem this shoddy money making scheme at all. Stay far away from this one people and save your self 10 bucks. My goodness, Disney. What have you become?
October 3, 2009
Toy Story is amazing ! And in 3D ? I'd see it over and over again (:
October 3, 2009
recommend everyone to c this !
October 2, 2009
COMPLETELY AWESOME