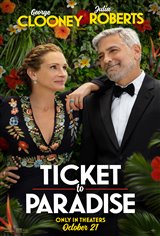 3.73/5
Based on 120 votes and 51 reviews.
Please rate between 1 to 5 stars
Showing 1-10 of 51 reviews
November 29, 2022
Fun, Fun, Fun don't miss this one!
November 27, 2022
Predictable and kinda lame but overall feel-good and with little obvious political agenda, I'll take it.
November 26, 2022
They should've cast likable people instead.
November 25, 2022
Hilarious
November 24, 2022
The Ticket to Paradise (movie) was very funny, touching, sensitive, acrimonious, beautifully photographed, professionally acted, and written as a script for nuance and reconciliation. The 'Twist of Lime' character, who keeps proposing marriage to divorced Julia Roberts character, is bit by a snake, head-butts Julia when she turns him down, and almost steals the show from our two major actors, Julia Roberts and George Clooney.
November 24, 2022
Funny and entertaining both Julia and George delivered it in those great dancing scenes! I really enjoyed this movie.
November 21, 2022
The more I think of this movie, after having seen it, I was astounded that these two actors would do this since it has such a bland and predictable script. Old gags and, as far as I am concerned, only the airline pilot was at least funny, pathetic, but funny. Julia Roberts plays her usual annoying self and even George cannot make the quick quips work most of the time. The popcorn was OK so I stayed till the end. I honestly cannot see anyone giving this five stars. That is like putting it up there with Citizen Kane and Private Ryan.
November 21, 2022
Refreshing! Funny, light, laugh out loud fun and uplifting. No bad language all bout Family. Roberts and Clooney work well together.
November 20, 2022
soooooo good
November 18, 2022
Beautiful scenery, shallow script, mediocre acting from supposedly 2 of Hollywood's "best". See it at home and save your money.