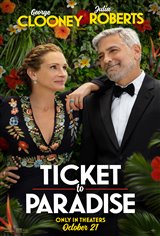 Ticket to Paradise
| 55 Reviews
Write a Review
In Theaters: October 21, 2022
On DVD/Blu-ray: December 13, 2022
3.69/5
Based on 128 votes and 55 reviews.
Please rate between 1 to 5 stars
Showing 1-10 of 55 reviews
February 4, 2023
Fell asleep. Weak script shows how weak the actors really are. Avoid.
January 7, 2023
No storyline whatsoever. The only entertainment came from laughing at how bad it was.
December 10, 2022
This is such a feel good movie. It's really super cute and has some hilarious scenes. My only objection is that it had a pretty nasty word in it which I personally felt was not necessary. But the acting by Julia Roberts and George Clooney was some of their best work ever! We enjoyed it so much we went to see it twice.
December 1, 2022
Beautiful scenery, good example of how we let stupid things in life ruin a relationship when you really love the person. The best takeaway from the show was the line 'why save the best for last'…do it today instead
November 29, 2022
Fun, Fun, Fun don't miss this one!
November 27, 2022
Predictable and kinda lame but overall feel-good and with little obvious political agenda, I'll take it.
November 26, 2022
They should've cast likable people instead.
November 25, 2022
Hilarious
November 24, 2022
The Ticket to Paradise (movie) was very funny, touching, sensitive, acrimonious, beautifully photographed, professionally acted, and written as a script for nuance and reconciliation. The 'Twist of Lime' character, who keeps proposing marriage to divorced Julia Roberts character, is bit by a snake, head-butts Julia when she turns him down, and almost steals the show from our two major actors, Julia Roberts and George Clooney.
November 24, 2022
Funny and entertaining both Julia and George delivered it in those great dancing scenes! I really enjoyed this movie.