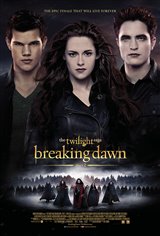 The Twilight Saga: Breaking Dawn - Part 2
120 Reviews
|
Write a Review
In Theaters: November 16, 2012
PG-13 | Fantasy, Drama, Romance, Science-Fiction, Thriller | 1h 55m
3.99/5
Based on 328 votes and 120 reviews.
60.90%

10.90%

7.69%

7.05%

13.46%
Please rate between 1 to 5 stars
Showing 1-10 of 120 reviews
February 2, 2018
It didn´t work even as guilty pleasure, that kind of movie which is so bad it´s good in a twisted way. No. That title "male" character is so unmanly and unsexy and uncool that if he met Riddick, the whole universe would explode and end.
February 9, 2015
The storyline is amazing. There is so much suspense towards the end. I can't wait for the next one to come out.
February 9, 2015
Great plot, story, montage....Excellent.
February 9, 2015
Can this series get any better. OMG Loved it!
February 9, 2015
I can't believe I waited so long to see this movie. Loved it!
February 5, 2015
I love this movie!!!
August 2, 2014
GREAT MOVIE!!! MACKENZIE FOY WAS THE BEST ACTOR OF IT ALL SHE WAS WONDERFUL AND ASTOUNDING AS RENESMEE SHE DID AN AMAZING JOB SHE IS THE ONE WHO MADE IT AMAZING
February 26, 2013
It got awards all right...7 razzies...
February 26, 2013
This took home seven awards Oscar weekend! Nice to see the series finally being acknowledged with some hardware.
February 23, 2013
I loved this movie! I went to see it with my friend! I ruined it for her when Alice had that vision, i told her that it was just a vision! ;) Im a spoiler! And i enjoy it! BEST MOVIE EVEEEEEEEEEEEEEEEEEEEEER!!!!!!!!