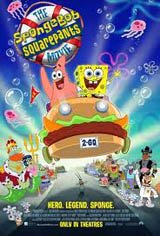 The Spongebob SquarePants Movie
4.2/5
Based on 48582 votes and 148 reviews.
Please rate between 1 to 5 stars
Showing 1-10 of 148 reviews
July 7, 2012
This movie was awesome!
September 28, 2008
this is a very good movie i thought it was better then the cartoon shows
August 6, 2008
i liked the part when spongebob played his cool guitar at the end and i liked the part when he was dressed as a wizaed
June 20, 2007
This movie would be an event even without Hasselhoff's cameo! A total scream! Sponge Bob, I love you!
June 20, 2007
COOLEST MOVIE EVER!!!
September 18, 2006
I really thought the movie was awsome and funny. I really tought that spongebob should have got the promotion instead of squidward because sqiudward is more of a stick in the mud. Or kind of too serious. But I love the movie anyway.
August 26, 2006
I`d like to dedicate these quotes from SpongeBob that I imitate so well to my 1st favorite guy, Tom Kenny. "I`m ready!, Cleanliness is next to managerliness, Open eyes Patrick, Hooray for Hasselhoff, I wanna be the manager and Who are you/Go Hasselhoff". The next quote I`ll dedicate to my 2nd favorite guy, Bill Fagerbakke "Did ya see my underwear?, Did you want to?, Hooray for SpongeBob!!! Hello! Where`d everybody go? Did I miss something?, Did ya see my butt? and I`m supposed to get a toy with this/Thanks!". I love SpongeBob and Patrick!!! The movie rules!
July 30, 2006
I thought that this movie was ok. It was more stupid than it was funny. 3 stars
July 16, 2006
I love SpongeBob and Patrick! They were quite funny! 2-4-6-8! Who we also appreciate. Patrick! Go Patrick! YAY!!!
June 30, 2006
Patrick was cool and so was SpongeBob. I liked it when Patrick said "Did ya see my butt"?