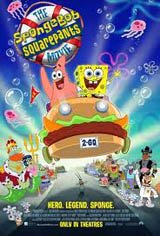 The Spongebob SquarePants Movie
4.2/5
Based on 48582 votes and 148 reviews.
Please rate between 1 to 5 stars
Showing 41-50 of 148 reviews
February 11, 2005
A WASTE OF FILM! Just terrible weak story line, and weak characters you minus well give your money to a homeless peron, because its that bad. Or you could burn your money that would be more fun.
February 7, 2005
The SpongeBob Movie Rocked! I went with a group of freinds and we found it so funny! All these people say all the funny parts in the movie are bad, but I think the funny parts are well... funny... DUH! I also LOVE the cartoon. Only one thing Squidward should have been in the movie more! Otherewise, Its the BEST Movie I have ever seen in my life! I rate it google-plex out of ten! lol
February 3, 2005
SBSP RULES!!!!!!!!!!!!!! age 13
February 3, 2005
This movie was amazing, I decided to change my life because of it. Go see it, it will change you, for the better, Mitch, off of Bay watch, OMG!!!!
January 28, 2005
I love the sponge bob movie because it is funny. Its my fave movie.
January 24, 2005
It was the best movie i had ever seen! It should be the best movie in the world!
January 24, 2005
Very dissappointed...the cartoon on tv is much much better.
January 23, 2005
IT WAS THE BBEST MOVIE I`VE SEEN SO FAR. I HOPE THEY WOULD PUT IT ON TV SO WE CAN WATCH IT!
January 22, 2005
this was the WORST movie i have EVER.. in my whole 16.5 years of a life.. seen.. worst yet.. 5 thumbs down..
January 21, 2005
This movie is packed with adult hilarity and childish humour, the perfect mix. I really enjoyed the film, it brightened my night, but my fiance payed 10.50 for a good nap.