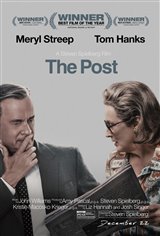 The Post
| 102 Reviews
Write a Review
In Theaters: December 22, 2017
On DVD/Blu-ray: April 17, 2018
2.87/5
Based on 404 votes and 102 reviews.
Please rate between 1 to 5 stars
Showing 1-10 of 102 reviews
April 26, 2018
This movie tries to be "All the President's Men" but doesn't come remotely close. Acting is poor and casting of the two major characters is even more poor.
April 26, 2018
Like movies that are historical. liked this one.
March 24, 2018
It gets across the intensity of that real life story.
March 7, 2018
Boring pretty much throughout. To save her career Streep got on the Me Too bandwagon when she's actually the poster girl for the We Knew one.
March 6, 2018
Very informative and the acting was great
March 5, 2018
If I wanted to see a movie take so long to turn into anything significant I'd watch a documentary.
March 5, 2018
Excellent, pertinent. A key historical event well presented. Portrays the relevance and importance of a free press and how intelligent, inquisitive minds utilized the tools of investigative reporting for that event and the one that followed -suggested at he end of the movie-, which resulted in the resignation of President Nixon. Meryl Streep and her magnificent portrayal of Katherine Graham, is testimony to her excellent acting.
March 3, 2018
Horrible and boring. Slept through most of it
March 2, 2018
I read a lot of the reviews here (many against, some for) that seemed like the person writing the review had made up their mind about it for political reasons before even having seen it. Some of them have likely reviewed it without ever seeing it. I did see the film and I know the actual history behind the events. And while not perfect, I thought it was pretty good overall. One thing that impressed me was that as the story built to its conclusion, I felt real suspense despite knowing how things turned out. If you can make a picture that does that, somebody's doing something right.
March 1, 2018
One doesn't expect a show such as this to be fast paced but it was nevertheless quite dull.