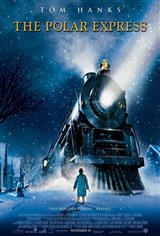 3.88/5
Based on 9115 votes and 112 reviews.
Please rate between 1 to 5 stars
Showing 1-10 of 112 reviews
December 19, 2022
Love this darn movie! We take different friends every year to IMAX Polar Ex to "get in the spirit" and young or old everyone loves it! It is spectacular to watch in 3D!
October 11, 2018
The Polar Express is the Christmas heartwarming movie about the power of faith and hope that resonates across cultures and generations because the marvelous movie of the Chris Van Allsburg Christmas masterpiece about one of the impressive enduring mysteries of the universe: Santa Claus! Mystery trumps reason and brings true happiness to the heart! The Polar Express shares with moral themes about the beauty of being generous to others, the power of faith, respect for courage and leadership, and the value of friendship!
December 16, 2016
My favorite christmas movie... Great soundtrack
December 21, 2014
I watch this movie a couple times every Christmas. The animation, music and story are wonderfully great. A true classic, one of the best, thank-you Tom Hanks.
December 21, 2014
Masterpiece in motion capture computer animated film making! This is a classic I have seen several times during the Christmas holidays. Tom Hanks is exceptional playing five different animated roles of the conductor, Santa Claus, the father, the ghost drifter, and the narrator. The computer animation and music are first rate. The storyline is original and captivating. You can connect with the characters in this film. You actually feel as you are on this fantastic and magical train ride to the North Pole. Brilliant script from start to finish. Phenomenal storytelling!
March 29, 2007
excellent... " See is believing"
February 26, 2006
Thank you Mr. Zemeckis and Tom Hanks and everyone else. Thank you so much. (and to think it is rated "G," way to go)
February 25, 2006
I had this DVD bought for me from my mom & dad and I watch it most nights. My favorite bit is when Billy & the girl singing.
December 26, 2005
incredible special effects and animation. looks real. a bit slow though. nice plot however.
December 18, 2005
Amazing !!!!!!!!!!!!!!!!! One of the Best Films Ever!