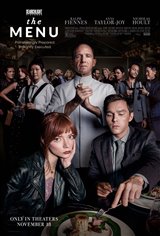 The Menu
| 25 Reviews
Write a Review
In Theaters: November 18, 2022
On DVD/Blu-ray: January 17, 2023
3.45/5
Based on 76 votes and 25 reviews.
Please rate between 1 to 5 stars
Showing 1-10 of 25 reviews
January 24, 2023
this thing with isolated islands and people stuck there, for them to find the clue to escape alive is becoming redundant and boring... nothing stellar here in this new one... good to see anna taylor again since the chess show, but otherwise.. B movie...
January 2, 2023
Makes the privilege people in this world think twice 👍Excellent Actors …pretty extreme ending Disturbing…..
December 31, 2022
How is this even remotely a comedy? This movie was incredibly disturbing almost as much as the 5 star reviews praising it. These types of movies desensitizes people to the real unimaginable horrors that go on in the world today which many people are unaware of. Millions of human trafficking victims - men, women and children. I won't go into go into details here because its hard to even imagine that evil like this even exists. Thankfully a lot of this has been dealt with along with the perpetrators. These crimes against humanity will be revealed to the world and it won't be easy for people to process. But, this needs to be seen by the world so that we never let this kind of evil to take root on the planet ever again. During this time I urge people to help and support one another. We are inherently good and compassionate people. Many of you reading this will probably dismiss this as crazy far fetched and absurd. It's fine, my intention here is to merely bring it up so that when these dark revelations come to light you'll take my words and help others. I will say that theirs light at the end of this tunnel. This will bring about unimaginable change that will be for the greater good of all humanity / all life on this planet. <3 <3
December 26, 2022
I just laugh the end ….
December 20, 2022
surprising movie. not what expected though good
December 13, 2022
Such a great blend of comedy and suspense. Cast is amazing. Unexpected plot twists and sharp satire. But also great commentary on the price people pay for devotion to their art. Oscar sleeper?
December 10, 2022
"No likeable person, no hero, no escape, no hope!" I wonder if the rater saw the movie at all. From the very beginning we recognize the likable "hero" the only one that was not supposed to be there. I am not going to argue the remainder points so as not to spoil the movie. As an avid movie-goer, and connoisseur of the horror, thriller and suspense genres, I had mixed feelings after completion, but these are things I liked: a) novel development of the plot as it unfolds -unpredictable. It kept you wondering what was next. Sure some of the threads were a bit childish, but after consideration, I believe that these were representations of the mind of the character of Ralph Fiennes as the Chef, and despite his deranged actions, Fiennes succeeds in making us almost feel sorry for him, and the masterful sparing of a sole survivor who understood his psyche. Other characters were caricatures, but Fiennes performance here is superb. Now I am not saying there was "bad" acting, with one or two exceptions, but that the script and/or direction did not allow or develop those characters fully. But I don't go to movies to critique, but to have fun, and that I did have! Recommended
December 9, 2022
It's a decent movie compared to other movies released this year. There's better movies to see right now, but this is still solid and worth watching if you have watched everything else. Side note: negative people will always be negative and rate movies as 1 star just because they want to be A-holes.
December 9, 2022
I loved the dark humour in this movie and I laughed out loud several times! The story line is weirdly based on a sad but true subject so if you lack the ability to see humour in sad truths it might not be for you but laugh or not I thought this was one of the best movies I have seen in a very long time!
December 7, 2022
an award worthy performance from Ralph Fiennes