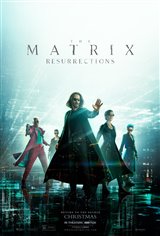 The Matrix Resurrections
| 68 Reviews
Write a Review
In Theaters: December 22, 2021
On DVD/Blu-ray: March 8, 2022
2.71/5
Based on 208 votes and 68 reviews.
Please rate between 1 to 5 stars
Showing 1-10 of 68 reviews
June 27, 2022
It was already terrible, then that odious piece of garbage Jada Pinkett-Smith showed up. A celebration of amorality and dissolution.
March 8, 2022
The mayest Gaytrix of all.
March 2, 2022
Was waiting to be awoken from this nightmare simulation, but never was.
March 2, 2022
The writers should be buried alive along with the entire cast of this movie WHO SOLD THEMSELVES FOR A PAYCHECK. This movie was sequence after sequence of poorly filmed, amateur imagery that provided the illusion that only a D minus Broadway show could offer. I would rather eat a pack of cigarettes than watch this again.
March 2, 2022
Pretty sure they used this film as a front to funnel money.
March 2, 2022
Cult Classic. As bad as the movie "The Room". Maybe one day James Franco can write a movie about how it ever got made and the delusion clinically insane lunatics that made it.
March 2, 2022
RED PILLED me big time. Wildly bad. Like Unbelievably bad. Not a good scene. Not a good moment. Useless characters taking up screen time to say non sense, good actors not given a hope in hell of pulling off a good performance. Lighting like a primetime romantic sitcom. SOOOOOO bad!
March 2, 2022
Captures the pathology of our times. Culture in crisis, literally sabotaging legitimate art.
March 2, 2022
BEYOND imagination. BIGGEST FAILURE OF HOW TO SPEND $300 MILLION DOLLARS!
March 2, 2022
The words 'utter disappointment' come to mind. Also, 'refund'