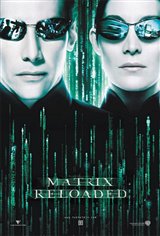 4.42/5
Based on 33437 votes and 380 reviews.
Please rate between 1 to 5 stars
Showing 1-10 of 380 reviews
May 3, 2009
Another amazing matrix film I thought there was way more action and thrill well done
July 8, 2008
it was a good movie
October 12, 2006
I have to say that I`m not really sure why I saw this film. I`m not a fan of the Matrix, but I just thought it would be interesting to see how the whole thing ended. I like the ending, but I found it kind of boring. Plus, then I really wasn`t a fan of Keanu Reeves.
March 1, 2006
I loved "the matrix", it`s story is TOTALY waterproof, I`ve seen it maby 30-40 times and I can say truthfully, I can`t find one little hole. But when the end of THIS movie came... I was crying! How can they make Neo stop the machines in the REAL world and then only give us a fools explination that: "The power of the one extends behond this world" and then just think that we should get with that and swallow it. How can the Wachowski brothers do something like this? How can they destroy the werry perfect thinking of the matrix. I am SO disappointed!
January 31, 2006
I know The Matrix Reloaded is the best movie I have ever seen in history and I have some ideas to make a new movie.
November 14, 2005
Matrix reloaded is a very very very beautiful film.
July 8, 2005
it is the best movie that i have watched
June 28, 2005
I only liked it because Leigh Whannell was in it.
May 11, 2005
No Story. It was the worst when compered to The Matrix, But a okay movie whan compered to other movies. Some scenes were very needed. Like this Zion scene, I felt like I was waching a movie about cavemen in 414256 B.C. The fight scene with Smith to long. And where did Tank Go Between Matrix 1 & 2?
May 9, 2005
It was the best movie ever! The graphics and animation is amaizing and it is so action - packed and keeps you on the edge of your seat!