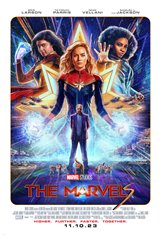 3.07/5
Based on 108 votes and 40 reviews.
Please rate between 1 to 5 stars
Showing 1-10 of 40 reviews
December 5, 2023
Don't believe all the hate being manufactured about this movie. It was a very entertaining movie.
December 4, 2023
After watching 15 minutes of this movie, I realized I would never understand anything in it. I know Disney lies and manipulates the ratings and reviews on their movies, but I have seen 275 hundred million budget, which means their actual budget probably exceeded 300 --And I don't get it. at all
December 3, 2023
Shit movie
November 30, 2023
Garbage of a movie. I hope the director and company go bankrupt. Lately Marvel movies SUCK. Good way in making people join DC
November 29, 2023
Chick flick maybe?? IDK cause girlfriend hated it to.
November 29, 2023
Come on. Enough of this garbage. I'm done with marvel
November 29, 2023
I need to cut down the humor And make the film a little more serious and balanced. The plausible believability is reduced when they throw in too many jokes. I thought the cats were interesting but overdone. That being said I still found the movie enjoyable.
November 21, 2023
This movie SUCKS. Jumps all over the place. For the morons that give it 5 stars they have no idea what a good movie is. Compare this movie to other Superheroe movies like the Avengers or Black Panther or Spiderman those are 5 star movies. Yet this Junk of a movie is what you give 5 stars? MORONS
November 20, 2023
Worst movie ever! Just look at the box amount then you know why!
November 20, 2023
The marvels is about new comic characters, the directors did a great job introducing Monica Rambeau and the teenager Miss Marvel in her new role, awesome story line about the cree and skrulls again this is a super hero franchise movie, if you are not into following the timeline of MARVEL movies don't waste your time and our time with negativity about the movie, all the negative comments are all bogus people need to stop complaining, again it's a movie about Captain America being a team player joining the ranks with Nick Fury etc. Good job marvel team.