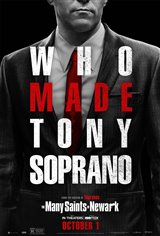 The Many Saints of Newark
2.88/5
Based on 32 votes and 15 reviews.
Please rate between 1 to 5 stars
Showing 1-10 of 15 reviews
October 16, 2021
If you loved Sopranos don't see this movie it will be a big disappointment
October 11, 2021
Worst movie ever
October 11, 2021
Not horrible, but not great. Explained a lot about the Soprano's characters. It wasn't focused on the Soprano's, but it shouldn't have been. After all, the Title literally translates to The "Multi Santis" of Newark. It wasn't the time for the Sopranos to be spot lighted.
October 10, 2021
This is one of the top worst movies I have ever seen. SAVE YOUR MONEY
October 9, 2021
This is one you may want to watch more than once. I felt like I was watching an episode of 'The Soprano's' on tv, the way it was filmed. Loved it. What a feeling when I finally got who was who, such as Livia, Tony's mother. She was such a bitch sometimes in the tv show but here we are seeing her when she was a lot younger. Silvio, Pauli Walnuts, Junior, here they are much younger than we have ever seen them and it was great how these actors nailed down the mannerisms and speech of the actors who played those characters in 'The Soprano's'. I hoped the movie would open with the same opening as 'The Soprano's', with the James Gandolfini driving into the city, but it didn't. They waited until the end credits to play the familiar theme song, 'Woke Up This Morning'. It was a good way to end the movie. I will have to get it on DVD when it comes out and add it to my 'The Sopranos' collection.
October 8, 2021
well done - different than sopranos but a must see for soprano fans
October 7, 2021
This was not a story about the Sopranos as much as it was a story about Christopher's father....Dicky. The disjointed sequences of Tony, left one waiting, holding onto some hope that a clear storyline would develop...that a continuity between scenes...a logical progression would tie together this movie in the context of one of the best stories, shows ever created. It missed the mark terribly. One of so many examples occurs when Tony begs Dicky for meds for his mother....a budding young psychopath which we rarely see....makes a big deal about this....so disconnected...my guess is that it was a set up for a later comment in a scene with the mother. Let's hope Chase gets it correct next time.
October 5, 2021
MOVIE WAS GOOD BUT LEFT YOU HANGING IN THE END ! NEEDS A SEQUAL SO YOU CAN SEE WHAT HAPPENED! THIS IS A MUST!!
October 4, 2021
I discovered The Sopranos on a grey market satellite dish before it was ever available in Canada. I used to record it on VHS off of Direct TV and lend it to my friends who were immediate converts. I guess you could say I was The Sopranos super fan in Canada. I really wanted to like this movie. However, on the way home, my wife and I totally forgot that we saw it. A bad sign.
October 4, 2021
I wanted more when it ended.