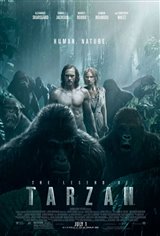 The Legend of Tarzan
150 Reviews
|
Write a Review
In Theaters: July 1, 2016
4.47/5
Based on 1578 votes and 150 reviews.
76.61%

11.19%

2.71%

1.69%

7.80%
Please rate between 1 to 5 stars
Showing 1-10 of 150 reviews
January 25, 2017
Terrible just terrible
October 26, 2016
Disappointed !
October 21, 2016
It is is a fantastic movie
October 14, 2016
average movie 3 stars
October 12, 2016
Best movie I've seen this year and best Tarzan movie ever and I've seen them all
October 1, 2016
I love action and adventure in which this movie had it all. Enjoyed it! A must see movie.
September 2, 2016
Sad what movies have come to. Don't listen to the 4 & 5 star ratings, it's obvious that they are "bots" spamming this rating site to distort the truth and encourage attendance. Poor plot, poor acting and 75% CGI. Sad how some of these top notch actors have given into greed and lost their desire for quality acting roles.
August 22, 2016
I liked it. Good action, great "eye candy" and all in all, just a fun movie. To those who are negative about it, if you went to this looking for "reality" with the visual effects.... Sigh, there's no pleasing you.
August 18, 2016
Horrible acting, ridiculous dialogue, dumb story (typical American saves the world garbage), cheesy effects, just all around bad. People rating this higher than 2 stars must either have very low standards, a very low IQ, or both.
August 7, 2016
Love it it was really good!!