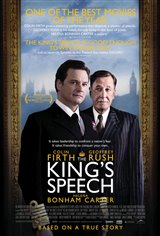 The King's Speech
656 Reviews
|
Write a Review
In Theaters: November 26, 2010
3.71/5
Based on 37463 votes and 656 reviews.
60.13%

8.17%

2.55%

1.05%

28.10%
Please rate between 1 to 5 stars
Showing 1-10 of 656 reviews
October 28, 2017
A boring film with no real conflict. This "historical" film is actually quite revisionist...and terrible. See a real movie instead.
December 5, 2016
Off with their heads!
December 5, 2016
Really bad flick. Many British films have forgotten the importance of confict. This one is a prime example. It's also disingenuous propaganda. It would have you believe that the king was England's rock during WWII. Bullshit! Churchill was England's rock! This is yet another despicable celebration of the reprehensible and parasitic monarchy.
May 14, 2011
Excellent Movie - great story line of a man who, in spite of having everything (money, power, wealth) and still has to overcome a physical disability and fears
May 1, 2011
BORING! Almost impossible to watch. If you haven't seen the show I will tell what happens, the guy stutters, thats all,thats the story. Did I mention it was BORING!
April 26, 2011
FANTASTIC!!!!....I never felt so good after watching a movie as I did after this one.
April 19, 2011
Great movie. Great acting by all. Best I've seen in a long while!
April 15, 2011
this movie is poor
April 13, 2011
This film is the best one I've seen all year. The story line was so intricate and carried out superbly. The movie is a bit long, but the story line is rich and full of lessons. Patience is a virtue and in this films case, a lesson learned.
April 7, 2011
One of the best