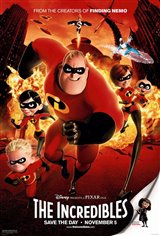 4.02/5
Based on 13625 votes and 263 reviews.
Please rate between 1 to 5 stars
Showing 1-10 of 263 reviews
November 26, 2019
Movie is really good and the characters are all great.
October 11, 2018
The Incredibles is like James Bond, Indiana Jones and the X-Men all rolled together into one big animated movie! The Incredibles was the true winner of both Best Animated Feature for director Brad Bird and Best Sound Editing for Michael Silvers and Randy Thom!
May 27, 2010
it is awesome!!!
August 22, 2006
I thought this movie was so, so, so, so, so, so, so good!!!
June 28, 2006
It`s is exciting movies. We watch it over and over again.
May 14, 2006
the incredibles is the best movie ever to have been directed!!! great script, characters and storyline. Nothing beats it!! 5 STAR!
September 12, 2005
I think the incredibles are the best but dont ruin it by making another one
June 10, 2005
I`d say a 4* rating but still good =)
May 13, 2005
I loved the Incredibles. It is a great movie to share with the whole family. They shoud make more movies like that. The Incredibles keeps your interest and keeps your mind thinking and eyes moving.
May 11, 2005
The Incredibles embodies everything I would ever want in a movie that I want to see - wit, emotion, family, satire, and great cinematography. This is as close a movie gets to being perfect. I highly recommend the DVD - the guys at Pixar really went through A LOT to bring us this - and I and (and judging from all the reviews here) a lot of others are thoroughly grateful that the Incredibles where realized. Brad Bird is incredible!