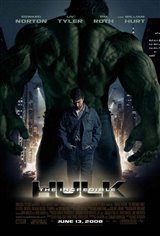 3.54/5
Based on 3576 votes and 191 reviews.
Please rate between 1 to 5 stars
Showing 1-10 of 191 reviews
April 4, 2014
Funny, action-packed, and Edward Norton. Brings back the feel of the Hulk TV series. A must for ALL fans of the big green guy.
October 24, 2011
I liked the Incredible Hulk Movie in 2008 Film now I'm waiting for a Incredible Hulk 2 Sequel to 2008 with Edward Norton in the Film. Only thing they need is to blend in the Orignal Hulk from the Pilot played by Lou Ferrigno.
January 29, 2011
the incredible hulk is the thrid best superhero movie i've ever seen next to spider-man 3 and the dark knight!!! it soooo better than the 2003 trashy one!!!
July 16, 2009
This movie was MUCH better than the first Hulk movie. The acting was slightly better and the computerization was also good. Filled with action. 4 stars.
February 24, 2009
I really liked the movie because of how well Edward Norton and Liv Tyler played there characters and I really liked the Hulk because he looked very real to me and I just loved the special effects and especially how good Edward Norton played Banner and the hulk and I trully know that Norton plays the perfect Bruce Banner and Liv plays the perfect Betty Ross and I really want to see these guys in the sequel so bad because of how good they played there Characters in the movie, I liked hulk since I was nine, this movie sooo deserves Five Stars!!
February 24, 2009
I SOOO LOVED THE MOVIE SO MUCH BETTER THAN THE FIRST ONE!!!! I really liked how Edward Norton and Liv Tyler played their characters in this movie and I really want them in the next one so bad because of how good this one was, and even though I didn't want to se it because I thought it would be worst than the first one in 03 but after i came out of that theater I was really surprised and wanted to see it Again,Again,And again because I liked hulk since I was Nine years old plus when i first seen hulk in the bottling plant he Absolutly looked real to me instead of something else like someone has took a piece of clay and molded it and said thats hulk, I really enjoyed it alot!!!!
October 24, 2008
Almost as good as the last one!
October 12, 2008
The best movie I have watched this year, I highly recommend.
September 13, 2008
Tied with Iron Man. Worth every penny! This movie was very well made and it delivered. 5 Stars!