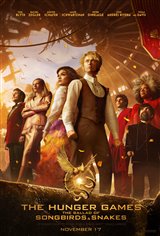 The Hunger Games: The Ballad of Songbirds & Snakes
3.93/5
Based on 56 votes and 14 reviews.
Please rate between 1 to 5 stars
Showing 1-10 of 14 reviews
December 4, 2023
I really liked this concept and liked how much better this really explained the regular hunger games!
December 2, 2023
It was Hunger Games alright. Killing, killing, and more killing. Two and a half hours of it and the girl lives. This girl didn't have the nobility or exciting fighting skills of the one in previous movies. Her singing folk oldies didn't really cut it. This movie is a colossal waste of Viola Davis. Snow was pretty decent although I was not happy to see him shift to the dark side but we already knew that's what the prequel was about. Overall the movie was not boring. I just felt like I've been there before.
November 29, 2023
Yeah. It's pretty f-ing stupid!!
November 27, 2023
It was ok. Not on par with previous Hunger Games movies but still worth a watch.
November 27, 2023
Spoiler Alert, the ending is confusing and it helps to have read the book. 10 years ago we were treated to J Law and the first HG's. But did you ever wonder, "How the heck did this bizarre idea ever come about"? Well in this movie you will discover that the initial HG's was crude, it was not well thought out, it was managed by narcissistic psychopaths (OK well one major psychopath), it's promotion was really rank (they used the weatherman) and, without a whole lot of oddly assorted pieces of the puzzle all falling into place; there would not have been a HG's. This story follows and defines the introduction and evolution of the eventual "President Snow" that we all know and hate from the J. Law movies. Tom Blyth is sensational as a young Corialanus Snow, but Rachel Zegler really steals the show. It's very hard not to fall in love with her flirty, sassy, spunky character. Far more than one of the actors from this movie evolve into characters that travel through time to appear in the J Law series (sorry that's my definition of the original movies from 10 years ago). If you are not a HG's fan (which I suspect is the reason for the bad reviews posted here) then don't bother with this movie. But if you are, you will really like this movie. PAY ATTENTION because this movie is fast, it's deep, almost every little nuance is important and do yourself a favor, go to the bathroom first :).
November 25, 2023
My wife and I really did enjoy the movie. It was certainly worth the admission, but we did get in for the Seniors rate. Not sure that it needed to be that long, the first 2 hours was excellent and kept you guessing what would happen next. However, the later part strayed from the main theme and didn't really add much to the movie. Definitely worth a watch or rent when it becomes available. Just remember to pee before you start watching, as it's a long movie!
November 21, 2023
horrible movie -even my grandson (13) hated it
November 21, 2023
Better than the book. It was so good
November 19, 2023
Don't like the brutality (not adults), but overall, thought was good
November 19, 2023
I read the book and actually like the movie better.