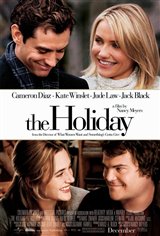 3.96/5
Based on 7807 votes and 104 reviews.
Please rate between 1 to 5 stars
Showing 1-10 of 104 reviews
November 22, 2014
Funny, Sweet and Romantic. The characters roles are wonderful!!! :) I love this movie :) I love it so much! :)
September 30, 2011
My family & I think this is one of the best movies ever. i It's a movie that we can watch over & over. I wish there was a part 2 coming up but it could only be done with the same cast. This storyline is so great, so well written, also very moving. It gives us all hope that there is true love. thank you Nancy for a wonerful story. Karen
May 7, 2007
Tributefan: Very good story. Better than what you will expect. It was also fun to watch on theaters. 3.9 /5 stars.
April 21, 2007
This movie is amazing! Cameron Diaz and Jude Law are phenomenal together! Its just a feel good comedy that everyone will enjoy.
March 19, 2007
Like a lot of films, it gets better and better with each viewing. Love Rosehill Cottage. I wonder how I could get the blueprints - I`ve been hankering to build a small "authentic" cottage for some time now.
March 17, 2007
not very good. two long, boring movies for the price of one.
February 23, 2007
I had what i was expecting to have: A LOT OF FUN. LOVE IT.
February 9, 2007
Not a bad cast. Good to see veteran tuff guy Eli Wallach lend his tallents to bring it up a notch to 4 stars.
January 20, 2007
Like most men, I was dragged to this by my wife since it was "her turn", oddly enough, I cannot remember when it was my turn last, but thats another story. Anyways, while I definitely would never have gone to see this movie on my own, and probably won`t be in a rush to watch it again, it wasn`t that bad. Out of all the romantic comedies I have seen (and as my earlier statements indicate, I have seen just about all of them) this is pretty good. Cameron Diaz looks hot, but she is just starting to show her age a bit.
January 17, 2007
Very well done. Some parts a little predictable, but a fun movie to watch. I enjoyed it and it was`nt a waste of money or time.*****