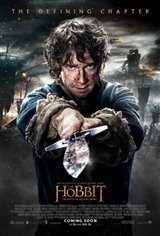 The Hobbit: The Battle of the Five Armies
4.4/5
Based on 160 votes and 47 reviews.
Please rate between 1 to 5 stars
Showing 1-10 of 47 reviews
June 1, 2015
THIS MOVIE IS GREAT...I LOVE HOBBIT AND MORE SPECIFIC THE LAST MOVIE!!!!!
March 24, 2015
This movie is terrible. Cashing in on the previous Lord of the Rings popularity, and not having the slightest respect for the masterpiece that Tolkien's book is. I have no problem with artistic license, but this is sad...
February 25, 2015
Best of the Hobbits by far!
February 16, 2015
Fantastic casts. Brilliant story bringing up the best and worse of human regardless of what type of people (cluster) one belongs to - Love is love there in no border. Everyone can be Bilbo, it is our option - have trust and integrity. See the good side in everyone and enjoy that for whom they are. Real classic - great creativity and adaptation able to bring the book into life and added more to it.
February 9, 2015
Carried by the dwarves and the hobbit. Very fun movie. Going to miss the trilogy which its dwarf focus is superior to the LOTR.
January 24, 2015
its so asome its the best movie eveer
January 23, 2015
A must see in 3D. Be prepared with Kleenex. Fantastic but sad.
January 19, 2015
Great movie
January 7, 2015
An incredible finale to the Hobbit trilogy! Absolutely amazing and very much worth the wait to see! An epic film! Definitely go see this... You will not be disappointed! Enjoy! :)
January 7, 2015
Bottom line for me, it was a a great emotional fun ride . The action was at times a bit over whelming but the acting of Freeman, Armitage and Sir Ian, along with the rest of a solid cast made this movie. Freeman as Bilbo Baggins was stellar and after a few viewings , his nuances shined even more. Jackson has done a great job bringing Middle Earth to life. Well done I say.