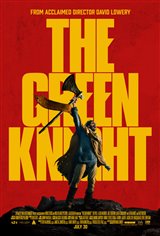 The Green Knight
| 39 Reviews
Write a Review
In Theaters: July 30, 2021
On DVD/Blu-ray: October 12, 2021
2.48/5
Based on 104 votes and 39 reviews.
Please rate between 1 to 5 stars
Showing 1-10 of 39 reviews
September 24, 2021
Time is more valuable than anything. This movie was really crappy value. A waste of time and money.
September 18, 2021
This movie seems to have been designed for a small group of people who are familiar with the lore and/or are fairly artistic in nature. I could appreciate what was attempted but, because I'm not familiar with the lore/story, I found it very tedious with a disappointing ending. I understood the ending, but just wasn't enough to make me not regret watching. And by the way, movies tastes are subjective - people who bash people for liking or hating it are just conceded.
September 5, 2021
This is a totally weird, fascinatingly bizarre mashup of chivalry-romance, action-adventure, fantasy, and mysticism. Writer/director David Lowry has turned the ancient Sir Gewain legend into a constantly mutating grand saga that, like its source, explores big questions about how (or if) free will and choice determine the direction of a person's life. Can humans direct their own fate, and if so, what constitutes a life well lived? Dev Patel is wonderful as the lead, and the rest of the cast, including Alicia Vikander pulling double duty as the two love interests, is superb. The artful cinematography of Andrew Droz Palermo is magical. The ever-changing musical score combining riffs on medieval chants, Wagnerian splendor, contemporary minimalism, and modern rock reminds the viewer that nothing in the film, or in life, is immutable. This is sophisticated filmmaking for serious moviegoers, and one of the best films of the year to date.
September 1, 2021
At the top, this ain't an action movie. Beautiful cinematography, a great score, fantastic scenery, cool visual effects and good actor performances make this movie really nice to take in. Bit slow at times, and drags near the end. Though the actual ending was great I thought. This is a story based on an chivalric romance, which is to say a Knight's tale. Dev Patel seeks the honor of knighthood but finds the path twist in front of him. He has to reckon with his own flaws and with the consequences of his actions. It is a bit slow, it is sometimes hard to make out everything a character says. It is still in my opinion a dang good movie. The journey of the main character isn't glossy or sugar-coated. It is harsher and more twisted than that. What does it mean to be a knight and be virtuous? How does one accomplish this? Wrapped in fantasy elements is a very human story that kept me engaged. Recommend seeing this but take heed: you will find no action or excitement here. But you will find beautiful moments and shots that stick with you and a wonderful story that wraps up very well in the end. 4/5
August 22, 2021
Think…the last Jedi x10 = booooooring!
August 22, 2021
Unwatchable. Save your time and money.
August 21, 2021
If you're familiar with the Arthurian legend, you can follow this --- about 1/2 way through. The the train goes totally off the track. The 2 people in the theatre with me got up and left. Maybe I should have too. D- flick.
August 20, 2021
Someone wrote that this will go down as a "new classic." Ridiculous. This is a film where its art-house pedigree momentarily takes over. But rest assured this dull but pretty film will be forgotten soon enough. I have always found the director to look for depth and then shoehorn it in as if some pretend profundity will make people blind to the many painfully bad elements of plot and character development.
August 19, 2021
Lucky to give it 1 star....should have fired the costumer designer...almost as bad as First Knights costuming...really? a soft pastel was the best they could do????? Look to Excalibur or something for more realistic period piece clothing...i.e. armor.... And why does he use the sword to cut his bonds, and then leave it behind???? Sheer stupidity.....
August 19, 2021
The Green Knight ignores and subverts much of its source material. Forcing the film to rest on the shoulders of its lead actor. Luckily Dev Patel is up to the task. I loved most of the film but I wish they had kept to the source material.