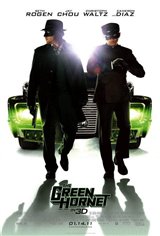 The Green Hornet
131 Reviews
|
Write a Review
In Theaters: January 14, 2011
3.79/5
Based on 420 votes and 131 reviews.
35.42%

34.38%

12.50%

8.85%

8.85%
Please rate between 1 to 5 stars
Showing 1-10 of 131 reviews
August 13, 2019
One of the five best superhero flicks ever; Rogen is simply amazing!
April 25, 2014
The greatest movie Cameron Diaz has ever made! Superlative action and a smart, witty, screenplay make this a must-see!
October 13, 2011
I can't understand why the critics hated this. Great action and stunts, and Reynolds makes a great superhero!
October 12, 2011
I thought Ryan Reynolds was great in this.
August 27, 2011
I would give it zero if I could. Don't waste your time. Bad. Very bad.
July 27, 2011
I had almost given up on superhero movies because they tend to be dreadful this decade, but this one gives me faith that it's possible to create a great one.
July 5, 2011
Can't wait to see it again! Looking forward to the next one!
July 5, 2011
Excellent! What a rush!!!
July 4, 2011
Pretty bad movie - one of the worst I've seen in some time. Seth Rogan is getting annoying.
July 1, 2011
I love Seth Rogen but this movie was an epic fail.