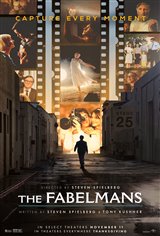 The Fabelmans
| 17 Reviews
Write a Review
In Theaters: November 11, 2022
On DVD/Blu-ray: February 14, 2023
PG-13 | Drama | 2h 31m
4.18/5
Based on 44 votes and 17 reviews.
Please rate between 1 to 5 stars
Showing 1-10 of 17 reviews
January 23, 2023
I watched 10 minutes of this stinker, mouth open in disbelief at how bad it was. Then I noticed all the people and bots who worked for this pile of exc rement giving it 5 stars so I felt compelled to share my opinion.
January 14, 2023
Full of Spielberg ego and way too long. Story could have been told in way less than 2 hours.
January 11, 2023
I know it got great reviews and most people love it but I thought it was boring, depressing and long. Don't want to give plot away but felt sorry for the father. Like I said, most people seemed to have liked it and will probably win awards but not a movie I want to see again.
January 9, 2023
My kind of film...not all that stupid non-sense a lot of movies have today. Steven was hit by the film bug early in life,lucky for the world. Go see it, if you can.
January 3, 2023
Excellent movie. Not the loud, blockbuster, type of movie. But good and thought provoking. Enjoyable to watch.
December 27, 2022
Excellent. Spielberg very smart person, talented as a child and as grown up. He tackled his problems in life in a gentle and wise ways! Eyes opening movie. I will watch it again.
December 26, 2022
Inaccurate depiction of Christians and their beliefs, they were mocked and vilified as anti semites. True Christians love God's people. Also, the profanity was unnecessary and offensive.
December 26, 2022
clobbers the anti semite creeps. yay! otherwise not much happening until they move to California except for Judd Hirsch. Does kind of make one want to make movies throughout, or at least get more intense about their own art.
December 25, 2022
Loved the whole movie and hope/wish there is a part 2. Didn't want it to end so soon.
December 20, 2022
i enjoyed this movie alot. Do go see it. Worth the admission price.