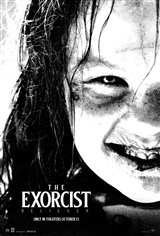 The Exorcist: Believer
| 24 Reviews
Write a Review
In Theaters: October 6, 2023
On DVD/Blu-ray: December 19, 2023
R | Horror | 2h 1m
2.54/5
Based on 74 votes and 24 reviews.
Please rate between 1 to 5 stars
Showing 1-10 of 24 reviews
November 9, 2023
Lydia Jewlett was great. Go see the movie
November 9, 2023
Lydia Jewlett was great. Go see the movie
November 4, 2023
Complete garbage. This is only for the most undemanding and idiotic horror fans (a grossly overpopulated group)
October 25, 2023
Saw the original when I was a teenager. This one had a whole different fell to it and I loved it. Don't know why it's getting low ratings probably because the people that rated it wore and 95 mask.
October 25, 2023
i gave it a 5 stars because those girls were really scary and the surprise ended wasn't expected also good acting all way round. I rated it high also because the devil did stuff my five year old brothers does when he's mad. Slamming doors why does the devil always slam doors? my little brother does that all the time when he's angry. Playing with the lights... on and off on and off my brother does that to annoy me...same with the devil. Writing on the walls, my five year old brother goes one farther he scribbles on the walls. Screaming.. they both are champions at that. Spitting..it's not as green as the devils but i saw him do it many times. Turning heads...a lot of heads are turned when my brother acts up. Mr Devil next movie, you have to do better.. you are acting like my five year old.the end
October 22, 2023
Poor screen writing I was looking forward to seeing this until I did now ! waist of money . Worst one ever . Don't spend money at the theater if your wanting to see it Waite untill it comes out on TV.
October 20, 2023
Surprise, surprise. Two Jewish screenwriters out out a movie where the church refuses to help and Christ is useless. That only through new age use of herbs and self empowered people can demons be exorcised. This movie should be deleted from existence.
October 17, 2023
WOW, Talk about some HARSH CRITICISM. Me, I love a Good 'Exorcism flick', and while This one wasn't really a 'showstopper' or anything, I didn't Think it was That Bad!!! Perhaps I should see it again, and look a bit deeper. True, there was Nothing in it that I found really 'memorable', and a week or so later I cannot remember much at ALL. If you want to see something Scary and GOOD, watch '30 COINS' s.2 when it comes back on HBO. One of the Highlights of the pandemic, for Me! Reminded me of the Immortal 'El Topo' & The Holy Mountain. JUICY! Paranormal! Spicy! Good V. Evil! Great CAST, acting, Luscious Locations & cinematography. Then go find S.1 & watch THAT!
October 16, 2023
A wonderful homage to the original and a pretty good story on it's own. Creepy atmosphere from the get go and never let's up. If you're really a horror fan, this is a must see. The devil is the only one that wants you to miss it!
October 15, 2023
Wasted our time, many other movies we could have went in to.