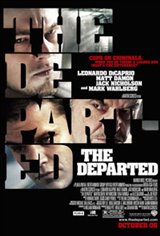 4.3/5
Based on 7922 votes and 268 reviews.
Please rate between 1 to 5 stars
Showing 1-10 of 268 reviews
December 28, 2016
The rat symbolizes obviousness.
July 7, 2016
Best movie ever my favourite for damn sure good story hell of a cast and a perfect director the whole package
October 6, 2008
Excellent screenplay writing,drirecting and phenominal acting. Talk about twists
March 27, 2008
One word sums up the entire film... 'Classic"
September 2, 2007
bitchin'! horray for Martin,finnaly an (VERRY WELL deserved) Oscar!!!
May 7, 2007
Tributefan: Awesome cast and acting. Good story and nice twists. One of best movie of the year. 4.5 / 5 stars
April 7, 2007
excellent movie - -great acting by everyone, but I think Damon really was the best in this film. Alec Baldwin and Marky Mark provided some really funny moments - -great screenplay and, of course, direction;
March 19, 2007
Most overhyped movie of 2006!
March 19, 2007
I really liked The Departed featuring Jack Nicholson and Leonardo DiCaprio and Matt Damon. I felt as if the title of the film was very appropriate and the entire cast did very well. I love Jack Nicholson from Batman as the "Joker" and Leo from Titanic and it was really unique to see them all in a different script. I am a huge fan of Matt Damon ever since his skillful work in The Talented Mr. Ripley as he is introduced to the world of Jazz. I would love to meet the director and the cast members one day, or possibly receive an autograph from each of them. I would definitely suggest it to any young man or woman that is considering becoming a pol
March 14, 2007
Extraordinary ! I appreciated the the acting of Damon and Dicaprio : the one you hate at the beginning is the one who`s right. And Nicholson still fright me again and again ...