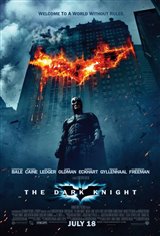 The Dark Knight
732 Reviews
|
Write a Review
In Theaters: July 18, 2008
4.37/5
Based on 8258 votes and 732 reviews.
72.63%

8.24%

8.81%

3.74%

6.59%
Please rate between 1 to 5 stars
Showing 1-10 of 732 reviews
June 13, 2020
Just amazing
February 2, 2018
I like this more realistic version of Batman much more than that comic one. Ledger´s Joker is perfect! It´s dark and it forces you to think about morals and corruption in our society. Hey, the reviewer under me, NOONE SAID IT IS FOR CHILDREN!
August 24, 2017
Dark, depressing, and sordid. Do not take children to this show.
October 4, 2014
THE BEST SUPERHERO ACTION EVER PUT TO FILM!
February 11, 2013
Second film in the Hatman trilogy doesn't match the heights of the original, but entertains all the same.
January 12, 2013
One of the best movies I've ever seen in all time beat batman movie ever crazy awesome wicked amazing super it's remarkable in every way it's like nothing you've ever seen before a masterpiece brilliant in every way!!!!!!!!!!!!!!!!
January 12, 2013
THE BEST BATMAN MOVIE IN THE WORLD
December 22, 2012
The best movie in the WORLD!!!! It is remarkable in every way you have. Never seen anything like it The best batman movie in the whole World!!!!!!!!!!! The best trilogy ever!!!!!!!!!!!!!! I loved this movie it was. Fantastic!!!!!!!!!!!!!!!!!!!!!!!!!!!!!!!!!!
September 30, 2012
My favourite film of the year so far! Would love to see a third one!
September 11, 2011
One of the best movies I've ever seen!