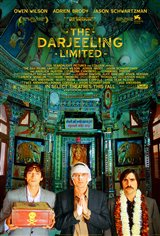 The Darjeeling Limited
18 Reviews
|
Write a Review
In Theaters: September 29, 2007
3.28/5
Based on 104 votes and 18 reviews.
48.94%

6.38%

2.13%

8.51%

34.04%
Please rate between 1 to 5 stars
Showing 1-10 of 18 reviews
October 23, 2014
Boring movie. I gave up watching it after the first half.
April 19, 2010
A complete waste of time - horrible, disjointed and boring!!!!. Wes Anderson mailed this one ine.
June 1, 2008
gr8 actors, good comedy... a nice movie.
December 14, 2007
brilliant!!!
December 14, 2007
Absolutely amazing attention to detail in every way. It had everything you love about a Wes Anderson film and more. Love it!
December 1, 2007
Oh, dear, what a load of self-indulgent tripe, a waste of a sneak into the cinema
November 19, 2007
absolutely pathetic - a horrid waste of time
November 16, 2007
I thought this movie was funny. I laughed out loud. You have to have Wes Anderson movie humour though or you may find it more quirky than funny.
November 5, 2007
Story sucks and worst - it was not funny at all. Not worth the time and money.
November 4, 2007
I am a huge fan of Wes Anderson, and have religiously been to see all his previous films, however, he's way off the target with this self-indulgent, meandering tripe. I have rarely been as bored by a film that seems to be going nowhere and have no point. You can talk of great sets, scenery, and quirky performances, but without the fundamentals, this is a sad folly. Perhaps it's got something to do with his co-writers this time around, and the lack of a Mark Mothersbaugh inspired soundtrack, but I'm hoping he's back to form with his next project, I like his work too much to give up.